Title: Coordination of the National Environment and Community Biosecurity RD&E Strategy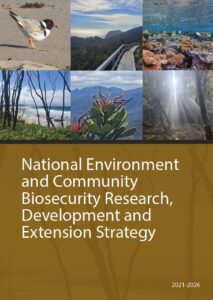 Client: Center for Invasive Species Solutions.
Date: 2019-present
Description:
The Centre for Invasive Species Solutions (CISS) was appointed in 2019 by the National Biosecurity Committee (NBC) to assess implementation progress made against the National Environment and Community Biosecurity Research, Development & Extension (NECBRD&E) Strategy 2016-2019, and to assist the Environment and Invasives Committee (EIC) prepare a new strategy for 2020 and beyond.
To achieve these outcomes, this project provides a dedicated national coordinator to assist CISS and the EIC undertake the assessment and prepare the new strategy. The National Coordination service are being provided my Matt Sheehan of Wild Matters.
The National Coordinator position supported by this project aims to:
assess what has been undertaken against the current strategy and identify the critical gaps,
develop a communication strategy and action plan to assist with the promotion and implementation of the strategy,
network and collaborate with key stakeholders in environmental biosecurity RD&E to prepare a new NECBRD&E strategy for implementation from 2020, and
work with CISS and the EIC on the transition to implementation of the new strategy.
The Draft Strategy is now available for comment at DAWES have your say website.