Title: Developing website content for NSW WeedWise
Client: Department of Primary Industries, New South Wales.
Date: 2018
Description: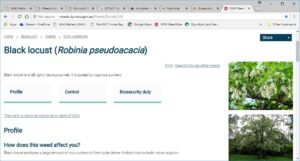 NSW WeedWise is a web and app portal that provides over 300 weed profiles for weed species that are regulated under the NSW Biosecurity Act, 2015 No 24. It includes details on:
Identification features
Impacts
Distribution
Spread vectors
Control options
Further information links.
Deliverables/Services provided:
Wild Matters Pty. Ltd. is currently drafting new weed profiles for species that have recently been identified as regional priorities, and for which there may be limited knowledge about them. Activities include:
Literature reviews on the weed's biology, ecology, distribution and risk
Drafting profile content in plain English
Sourcing images
Liaising with staff on technical content
Project management.
"Wild Matters have provided plain language writing, technical review and desktop research services for NSW DPI weeds information and resources. Their understanding of audience needs, weeds management and government processes together with their positive approach make them flexible providers who are easy to work with." Dr Elissa van Oosterhout, Development Officer – Weed Information, Invasive Plant and Animals, NSW Department of Primary Industries.