HELP SHAPE THE FURURE OF ETABLISHED WEED MANAGEMENT.
Wild Matters has been contracted by the Australian Government to develop a National Established Weed Priorities (NEWP)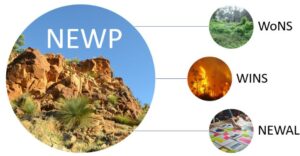 framework, building on and learning from the Weeds of National Significance (WoNS) initiative. The aim is a revitalized, long term, strategic approach to reducing the spread and impacts of established weeds.
Take pat in the discussion by visiting out NEWP page
---
Managing blue heliotrope in NSW – your views and experiences sought
We are seeking the views of land managers affected by the weed blue heliotrope (Heliotropium amplexicaule). Please consider completing an anonymous 15 min survey to share your experiences with blue heliotrope – its distribution, impacts and management.
Information gathered from t
his survey will be used to plan a series of workshops in early 2022 to collect more detailed information on blue heliotrope and its management. After this, a best practice management manual for blue heliotrope will be written, which will be freely available in late 2022.
Follow this link to complete the survey: https://www.surveymonkey.com/r/T5J9CXY
 The survey will close on the 10th December 2021.
Thank you for your time.
The team at Wild Matters Pty. Ltd.
---
MEDIA RELEASE
Out of the weeds, into the future
The future of weeds in Australia is in good hands with the commencement of a project to design a new framework for managing weeds in Australia.
Natural resource management company Wild Matters has been contracted by the Australian Government to work with stakeholders to co-design a new framework.
Assistant Secretary of the Biosecurity Response and Reform branch at the Department of Agriculture, Water and the Environment, Ms Josephine Laduzko, said the partnership was a chance to rewrite the books on weed management.
"Together with Wild Matters we will co-design a National Established Weed Priorities (NEWP) Framework; develop five Weeds of National Significance (WoNS) best practice control manuals and produce a report that proposes a national delivery approach for the NEWP framework," Ms Laduzko said.
"This is vital work. Nationally, weeds are estimated to cost over $4 billion per year in control measures and production losses."
"The previous weeds management framework was the WoNS initiative which is now 20 years old – the landscape of weed management has changed in that time", Ms Laduzko said.
"While providing many successes, the WoNS initiative also highlighted what we can do better."
"There are gaps in our information that we need to address, and we also need to move beyond a single species approach."
"This new project seeks to harness these learnings, providing a framework for improving weed management for the future."
"The department is looking forward to working with Wild Matters to deliver a new national approach to weeds."
Once finalised, the new package of strategic documents will be presented to the national Environment and Invasives Committee for endorsement as a deliverable of the Australian Weeds Strategy.
Fast Facts:
Wild Matters Pty Ltd was the successful tenderer through a procurement process advertised on Austender.
Nationally, established weeds are estimated to cost over $4 billion per year in control actions and production losses.
The 2019 ABARES survey found agricultural businesses spend an average of $10,551 and 61 days a year on weed management activities.
---
KANAMALUKA/TAMAR ESTUARY
The Kanamaluka/Tamar Estuary is situated in northern Tasmania, extending some 70km from the City of Launceston to Low Head.
Sedimentation is a natural process in the upper Kanamaluka/Tamar estuary, with early accounts describing a relatively shallow channel surrounded by extensive tidal flats and low tide wetlands. Sedimentation of the estuary has been a concern of residents since early European settlement. Work to improve navigation began in the upper estuary in the 1830's with the establishment of the Port of Launceston. From as early as the 1880's, letters to the editor have made calls to 'get rid of the mud'.
To provide a better understanding of the options the Tamar Estuary Management Taskforce commissioned the Tamar Estuary and Esk Rivers (TEER) Program to conduct a review of sediment management options.
The review is a scientifically robust, evidence-based and peer-reviewed assessment of a wide range of sediment management options for the estuary, including various community proposals that have been put forward in recent years. The review brought together technical experts in flood management, estuarine dynamics, ecology, engineering, and infrastructure management to evaluate the potential management options.
Dr Matt Sheehan, who completed a PhD on the invasive plants ad dynamic processes in the Tamar Estuary, provided peer review of the report.
The final TEER sedimentation report was endorsed by the Taskforce in June 2021.You can read the final TEER sedimentation report here.
You can also learn more about the sedimentation in the estuary by watching this short video.http://https://youtu.be/PGfxc8cANpw
---
National Environment and Community Biosecurity Research, Development and Extension Strategy
Incursions of exotic organisms harmful to Australia's environment and social amenity are an increasingly regular occurrence and
have been the focus of recent emergency responses. Wild Matters, on behalf of The Center for Invasive Species Solutions(CISS) and the office of the Chief Environmental Biosecurity Officer (CEBO), led a 12-month consultation process to revise the National Environment and Community Biosecurity RD&E Strategy. The revision of the Strategy coincides with a time where there is increased recognition of the importance of environmental and community biosecurity, as well as new mechanisms to support its implementation. The Strategy calls for a coordinated effort to identify and realise RD&E priorities that will address biosecurity threats to the environment and social amenity, whilst strengthening the national biosecurity system by complementing the national Animal and Plant Biosecurity RD&E strategies, which address primary production, trade and human health issues.
The purpose of the Strategy is to foster coordination and collaboration for targeted investment in high value, cross-sectoral, and cross-industry biosecurity research, development and extension (RD&E).
The Strategy was endorsed by the National Biosecurity Committee in November 2021 and implementation will commence in 2022 (CLICK HERE) to download the Strategy.
---
2021 NSW/VIC WEEDS CONFERENCE

Wild Matters will be at the Combine NSW/Victoria Weeds Conference in Albury, catching up with colleagues old and new. We can't wait to hear all the latest research and best practice information on weed management.
NOTE – NEW CONFERENCE DATES
Due to the coronavirus pandemic the 2021 conference has been postponed from August 2021 to 21 to 24 March 2022.
Wild Matters is proud to be a sponsor of this event. We will be giving a presentation and running a workshop to discuss the future of national establish weed management. you will also be able to catch us at out booth.
More information on the conference can be found on the website https://www.nswweedsconf.org.au/
We look forward to seeing you there.
Shauna, Matt and John
---
22nd AUSTRALASIAN WEEDS CONFERENCE 
The 22nd AWC Conference

program has been rescheduled to the 25th-29th September 2022 and abstract submissions have been reopened
WEED MANAGEMENT BEFORE AND AFTER FIRE
The program will include a plenary speaker, session speakers and a workshop dedicated to understanding pre & post fire weed management strategies and techniques.
Please ensure you read the abstract guidelines prior to submitting. Abstracts can be submitted here.
For more information go to the AWC website.
---
Local Government Biosecurity Planning Support- Queensland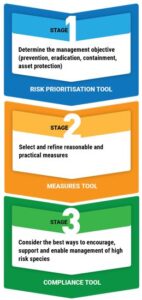 Wild Matters worked with Biosecurity Queensland and the Local Government Association of Queensland throughout 2019 to develop tools and systems that support Local Government to undertake biosecurity planning and compliance activities.
Wild Matters held extensive workshops throughout Queensland with local government staff.  Tools developed during the workshops are now available to help Local Government in biosecurity planning. Tools include:
Risk Prioritisation Tool
Measures Tool
Compliance Tool
Biosecurity Plan Template
---