Title: Developing the 'Opuntioid cacti: best practice control manual'
Client: Department of Primary Industries and Regional Development – Agriculture and Food division (DPIRD), Western Australia
Date: 2016/17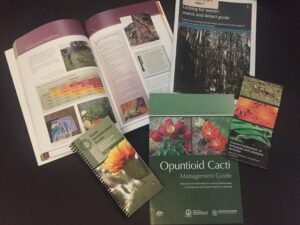 Description:
A national best practice control manual has been developed for invasive opuntioid cacti in Australia.
The manual for the first time brings together tools and knowledge from a number of sources, to provide an easy to use guide on how to successfully manage opuntioid cacti.
Deliverables/services provided:
Desktop studies, literature review, analysis of findings
Development of case studies
Development of diagrams, flow charts and concept maps
Liaising with the project's reference group
Facilitating workshops
Writing services
"Wild Matters was engaged in 2016-17 to collate the current knowledge of the management of opuntioid cacti throughout Australia and produce a national best practice management manual and associated products. The comprehensive process put in place to engage all stakeholders resulted in a high quality publication that has been valuable for everyone involved in managing cactus. Wild Matters were more than willing to be flexible and communicative throughout the contract and ensured that timelines were adhered to. I would recommend them for any similar contracts in the future."  Kay Bailey, Manager – Priority Weed Response, Invasive Species, DPIRD.