Title: Developing a draft Deer Management Strategy for Victoria.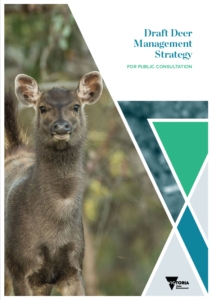 Client: Department of Economic Development, Jobs, Transport and Resources (DEDJTR), Victoria and Department of Environment, Land, Water and Planning (DELWP), Victoria.
Date: 2018
Description:
Development of the Draft Deer Management Strategy for Victoria is a key action under the Sustainable Hunting Action Plan and a commitment of the Biodiversity 2037 Implementation Framework.  The  Strategy seeks to maintain hunting opportunities while managing the impacts of deer on environmental, agricultural, social, economic cultural assets, proving a coordinated approach to deer management in Victoria. The final Strategy was released in 2020.
Deliverables/Services provided:
Coordinate workshops and meetings with the project's Advisory Group
Provide stakeholder engagement advice
Undertake research into past and present literature on deer ecology and behaviour, origin, occurrence and distribution, species, habitats and management techniques
Present at stakeholder engagement workshops
Provide a draft Deer Management Strategy for Victoria.'
"Matt and Shauna, 

Thank you for the great job you have done working with both departments to develop the draft deer management strategy, particularly given the complexities of working with multiple departments and agencies, the Advisory Group and a broad range of stakeholders. Your flexibility in accommodating changes in direction and time frames, your responsiveness throughout the project and your ability to communicate effectively with a diverse range of stakeholders enabled us to navigate a complex and challenging project." 

Susanna French, project manager, DEDJTR